FISHING ON LAKE ANNECY
"Wind from the North, lay your stick down and sleep! When the Northeasterly wind blows, pop open the cider! Wind from the East, take what is left!"
"If the wind knocks on your door, dress accordingly! If the wind blows at your window, stay in and eat galette!"
Breton seafaring proverbs

A little bit of history! lac annEcy blanc
Fishing has been practised for generations on Lake Annecy. During Lent and other holidays when meat was forbidden, fish was a regular staple.
It is interesting to note that fishing led to many social transactions: from the 12th century, fishing rights were sold or traded by Lords and large aristocratic families.
Lake Annecy is a natural lake, which several rivers feed into: the Ire, the Eau morte, the Laudon, the Bornette, the Biolon, and finally, a powerful source under the lake itself, 82 metres below the water's surface, the Boubioz.
Lake Annecy covers exactly 2,650 hectares, and its depth ranges between 41 and 65 metres. The lake divides into 2 parts: one large and one small lake, side by side.The small part of the lake is the warmer; it is therefore strongly recommended that you begin your season on this small lake.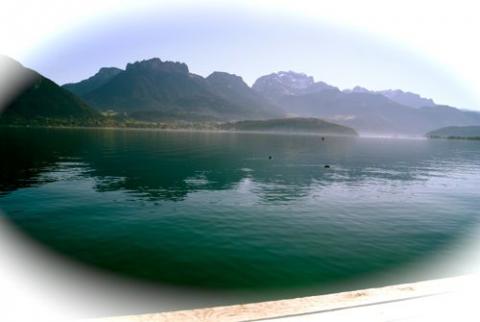 A paradise for fishing in the mountains
You love fishing? Lake Annecy is a perfect place to enjoy your favourite activity. The opportunities for fishing are as numerous as the types of fish in the lake (Arctic char, Whitefish, Trout, Perch, Pike, Monkfish, Roach, Chub, Bleak, Tench, Bream, Gudgeon, American Crayfish.
You can acquire a provisional one-day licence, or a two week tourist fishing licence if you do not hold your own fishing licence. However, even though it is possible to obtain a tourist licence, fishing on Lake Annecy is still regulated.
You can also enjoy discovery courses led by professional guides.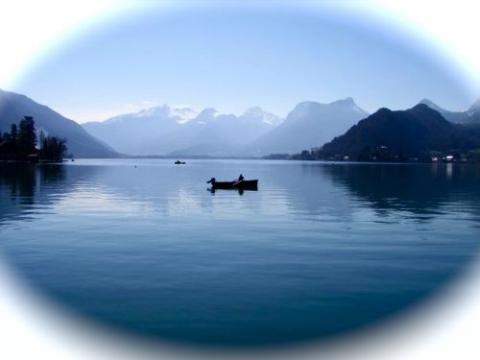 Regulations on Lake Annecy
Only professional fishermen, with a fishing licence, are allowed to use hoop nets and nets (there are currently 2 in Annecy). Other fishermen must use lines or trolling.
Fishing at night is forbidden on Lake Annecy. The lake is a first category public domain. Special licences are required for fishing in boats of from the bank with four rods.
It is mandatory to declare all catches on Lake Annecy.
pcheur 500
Lake Annecy reserves:
For the "omblieres" (char waters):
- Menthon-Saint-Bernard.
- Talloires.
- The natural Bout du Lac reserve is forbidden to boats.
Complementary information:
- Fishing record: a 27kg mirror carp.
- Fishing controls are carried out relatively frequently.
- IGN card: N° Top 25 3431 OT.
- Temperatures on Lake Annecy can drop very quickly, so it is best to bring warm clothing.
- For those fishing for carp, the best period in the season is between June and October.
- The climate on Lake Annecy can be described as Continental Southern Alps.
- Don't forget: Lake Annecy is a major tourist lake and can therefore be very busy during the summer season.
Useful links:
National fishing federation
Haute Savoie Fishing Federation
Association of fishing and protection of the aquatic environment of the Lake Annecy