WATER SPORTS
WATER SPORTS
"Mother of pearl and sapphire lake, sparkling in the breeze, Modulating her song in the balmy wind.
On the pure, deep waters, the sun becomes intoxicated, Changes it into a rainbow, out of its lover's goodness."
L'âme du lac d'Annecy, Mariva Fondacci.
Lake Annecy – replete with wonders
Thanks to its great natural diversity, Annecy and its Lake have been able to develop a wide range of water activities. As soon as summer arrives, the lake sheds its winter coat to reveal the turquoise water. This is the time when lovers of water sports come to enjoy the lake's gentle waters.
Surrounded by the Aravis and Bauges massifs, every year Lake Annecy plays host to a variety of water sports enthusiasts. For those less interested in trying their hand at sports on the lake, a voyage of discovery awaits in the shape of a cruise on Lake Annecy. Discover the various villages along the lake's banks through a series of stopovers, a marvellous way to explore local history.
Bathing:
Come take a dip in the water which averages 24°C in summer, on every side of the lake and enjoying Lake Annecy's 11 beaches. The beaches, which charge an entrance fee, are monitored most of the time from 1 July to 31 August.
Water Sports:
On Lake Annecy, visitors are free to enjoy all sorts of water sports: Wakeboarding, sailing, wakeskating, waterskiing, baby skiing, handiskiing, etc. So many activities for those seeking thrills to practice their skills or be introduced to new experiences!
So come discover something new or perfect your talents: With multiple school of nautical ski / wake  you will be surrounded by a professional team in a tapas bar, ambiance with barbecues, live music and your feet in the water!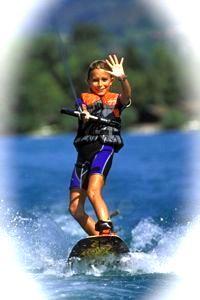 You prefer boats without motors?
Come try kayaking with friends and family.  The "Roul' ma Poule" shop in Annecy le Vieux rents out kayaks throughout the entire summer season.
Diving:
Lake diving is fairly particular, it a completely different activity from sea diving. It could be compared to cave diving with a visibility of 30 metres or less. This visibility varies depending on the time of year. For diving in Lake Annecy, pay special care you have the right equipment.  The make-up of the diving group is also very important.
Don't miss: Lake Annecy's underwater cities!
Indeed, Lake Annecy is over 30,000 years old and counts many underwater cities. These underwater cities are pre-historic villages dating from the Neolithic era and the late bronze age.
The reason they are close to the lake banks is because the water level used to be much lower.  The presence of stilts (stakes driven into the ground which were used as a vertical foundation for huts) confirms this hypothesis.
Here is the list of different underwater cities:
- Just off Pâquier, in Annecy, a gathering of several dozen stilts covering an area of approximately 1,200 m²;
- Near L'île aux Cygnes, in Annecy;
- Near the Petit-Port outside Albigny, a series of stilts grouped over an area of approximately 2,000 m²;
- Off Saint-Jorioz, a group of around 760 stilts over 1,200 m²;
- 800 m off "Crêt de Châtillon" in Sevrier, a group of stilts and a pottery oven.
- In the Mongets sector, in Sevrier, 180 m from where the Planche streams meets the lake, a group of 673 stilts over 600 m2;
- And finally, off Duingt, the famous "Haut fond"!


The wreck of the "blue lake".
It is possible to dive to a shipwreck in Lake Annecy. This was the "Le France", the last paddle boat able to sail on Lake Annecy from 1909 to 1962.  The 30's were an especially busy decade for Le France, particularly during the summer season.
The boat was able to take up to 700 passengers on board. It was often used by local residents as a form of public transport.
After the end of the Second World War, new types of boat took over from the paddle boat, making it obsolete.
There was an attempt to give our dear "France" a second lease of life, fitting it with new cabins and showers. Unfortunately, Le France sank mysteriously in the night from 12 to 13 March 1971, just off the Imperial Palace, at a depth of over 42 metres.
If you wish to visit the France's wreck, it is highly recommended to have an advanced level of diving (level 3).
Cruises:
5 ships await you in their moorings at the gates of the old town of Annecy: La Belle étoile; Le Savoie; L'Allobroge; Le Cygne; Le MS Libellule.
Thus, you are able to discover Lake Annecy on a tour which lasts around an hour and a half.
Furthermore, if you prefer a night-time view of the Lake, you can board the MS Libellule for a cruise ship dinner-dance.
Be smart getting around!
To avoid summer traffic jams, such as when leaving the beach, or simply to make to very most of your holidays around Lake Annecy, a shuttle boat is available for all your journeys around the lake with the "Omnibus pass".
Marina: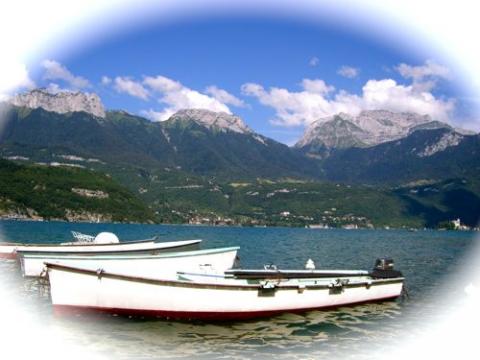 If you feel like going for a sail by yourself or with your family, there a plenty of places along the Pâquier, at the end of the lake, or on the Eastern or Western banks, where you can rent boats, with and without licence, as well as "pedalos".
However, if you own your own boat, 9 ports are available to you andprovide seasonal docking: Annecy, Annecy-le-Vieux, Doussard, Duingt, Menthon-Saint-Bernard, Saint Jorioz, Sevrier, Talloires et Veyrier-du-lac.
Information provided by the relevant town halls.